I had the pleasure of interviewing Andrew Hillman of Rastelli Direct, a major player in the food-service business providing high end products to consumers and restaurants. Rastelli Direct has been doing some marketing on the Reluctant Gourmet and sent me some of their products to try out and have some fun with.
I thought you would be interested in learning more about Rastelli along with Andrew's extensive knowledge of beef and beef cuts.
Interview with Andrew Hillman
Andrew, for those of my readers who are not familiar with the Rastelli name, can you describe who they are and how the Rastelli Brothers started?
Sure, thanks for taking time to chat today.  When you hear the name Rastelli, think Quality.  Rastelli Foods was started back in the 70's by 18 year old Ray Rastelli.
He rented a 700 sq ft. storefront in his hometown of Deptford, NJ and opened his first store called "The Meat Stop", with the goal of providing high quality food to consumers.  Tony Rastelli, Ray's younger brother, joined the business shortly thereafter.
Throughout the 80's Ray and Tony expanded into 8 storefronts across NJ.  Around 1990, commercial foodservice production began. The brothers opened their first USDA certified production facility and began servicing local restaurants.
Today, Rastelli Foods Group is known as a full service, international food-service company proving high quality food products to consumers and restaurants around the world.
Some of these include our clientele online at RastelliDirect.com, along with 5 star steakhouses, casinos and resorts all around the world.  Although the company has grown very large, it still maintains that family aspect just as when Ray started back in the 70's; it's pretty awesome.

Rastelli Food Group produces a "comprehensive portfolio of premium products from around the world". I think many of my readers may be familiar with some of these brands including Tony Luke's, Mesa Fresh Mexican Grill and Joe Spud's. Can you tell us a little about the relationship Rastelli has with these brands?
Absolutely...  Rastelli produces a wide array of food items and these include some popular franchises.  For these brands mentioned, not only does Rastelli produce products for major brands under private label, we'll also R/D new products and lead the way for cutting edge product developments.
Rastelli helps food companies expand & grow, just as Rastelli grew from one market to a global food industry leader.
The newly developed and partially owned "Tony Lukes" franchise is catching on nicely.  As of January 2014, it has expanded from 2 stores to a few dozen popping up from California and Florida to Dubai and everywhere between.  This will help the well known "Philly Cheesesteak" become more accessible to other parts of the country and around the world.
When I go to the Rastelli website I noticed Rastelli Foods, Rastelli Seafood and Rastelli Market Fresh. Can you tell us a little about these companies and who they service?
Rastelli Market Fresh is a reinvention of "The Meat Stop"; the original store Ray and Tony opened back in the 70's. It is still servicing local consumers in Deptford, NJ.
A new 30,000 sq ft. Rastelli Market Fresh is set to open this year in Marlton, NJ. It will be a comprehensive food destination, complete with a full raw bar in its seafood market, food and wine pairings, freshly chopped salads, taqueria & more.
Rastelli Foods and Rastelli Seafood are both Large Scale Food Production facilities.  Rastelli Foods is a 50,000+ sq ft, USDA certified food processing and packing facility in Swedesboro, NJ; producing all of our Beef, Pork, Poultry, Veal, and Lamb products.
In total, Rastelli Foods produces a few thousand different types of food items.  With plans of a new addition in the coming months, this place will more than double in size to handle the growth both of Rastelli Foods & Rastelli Direct.
Rastelli Seafood is our seafood production facility located in Egg Harbor Twp, NJ.  This is where all our fish and fresh seafood are brought in, trimmed, cut, packed and shipped.
The culinary teams at both facilities create solutions for chefs to consumers at home from, fully cooked baby back ribs & veal osso buco, to sous vide fresh chef seafood meals.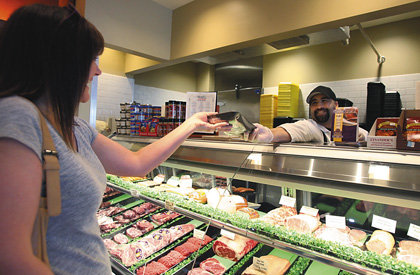 And then there is Rastelli Direct, the company I think many of my readers will be interested in learning about. Can you tell us how Rastelli Direct is different from these other Rastelli companies and what they offer to home consumers?
We're similar in all the same aspects with regards to quality, superior restaurant quality products, but where we differ is the end user.
Rastelli Direct is an online provider of gourmet meats and seafood.  Rastelli Direct delivers to consumers across the country via home delivery through phone and mail-in catalogue as well as online orders.  Through our loyalty program, we reward every shopper with up to 10% back in Rastelli Dollars for every order.
Along with the convenience of online shopping (or calling in to order), we drop ship right to your doorstep, premium products, in convenient packages, labeled, individually vacuum sealed, professionally trimmed by master butchers, with free shipping also available.
The goal is to make life easier at home & to provide awesome products to consumers.  To that end, FREE SHIPPING is always available on value packs, gift boxes, orders over $150 and orders with 5 or more items.

Let's talk beef. I'm a huge fan of steaks and I know from our conversations Rastelli Direct's signature, USDA certified Black Angus Beef is "consistently ranked in the top 4% of all beef throughout the world."  What does it take to be ranked that high?
Ha-ha, me too!  One word really.  Quality....  all the way down the chain, back to the pure angus bloodlines, genetics, clean water, clean feed, natural, free range grazing environments.
Rastelli owns Black Angus Cattle with pure-bred heritage, and it makes all the difference because we can control every single aspect for the ultimate care guidelines, which in the end produces the most consistent, best tasting products time after time.
How is your Blank Angus Beef different from other producers?
The biggest is the verification.  USDA requirements 'technically' state that if the cattle's hide is more the 51% black in color, it can be labeled Black Angus.
But, that does not always hold true.  There are plenty of cattle out there that are Black in color but not Angus in heritage.  We actually non-invasively test for DNA verification to ensure that our breed is indeed Angus.
On your website, you offer 3 different brands of Black Angus to us home consumers. Restaurant Elite Black Angus, Butcher's Choice Black Angus and Dry Aged Elite Black Angus. That's a lot of Black Angus. Can you tell us how these three brands differ and what would I notice about each if I did a side-by-side comparison of the three.
Right, well all three are from the same domestically raised Black Angus cattle, but the grades of meat are different.  First we have the USDA Choice, which is an awesome and more affordable product.
Next is our upper ⅔ of choice or "restaurant elite".  This grade is literally what the name says; more elite, the upper ⅔ of choice graded beef also known as high choice. It is very popular with restaurants.
Lastly, our Dry aged, Black Angus Beef is also USDA upper ⅔, but it's taken through an additional aging process.  We wet-age all of our steaks and beef for 30 days and it makes the product more tender.
Dry aging is an additional 30 days of aging that produces some of the most tender and robust tasting beef around.  It's revered as one of the best steak types and is exclusively found in the most high end steakhouses and restaurants.
I'm especially interested in your "USDA Upper ⅔ Choice Black Angus. Can you describe "Upper ⅔ Choice" and how it differs from the Choice I see labeled at my supermarket?
Beef grading ranges from lowest to highest, left to right:  Canner, Cutter, Utility, Commercial, Standard, Select, Choice, Upper ⅔ choice, Prime.  The general public typically is familiar with Select, Choice and Prime grades; prime being the best grade for steaks and beef. These are the most popular for consumers.
When you think of choice, break it down between the lower ⅓ and the better quality upper ⅔.  Upper ⅔ choice is a higher grade of beef featuring better marbling, tenderness, bite and flavor.
Who makes these distinctions by the way? 
USDA grades all beef produced the USA
I'm also interested in learning more about your Dry Aged Elite Black Angus beef. I see on your website, it is aged to perfection for 30 days. What does the dry aging do and how is the flavor different from non-dry aged beef?
Aging makes the product more tender, and usually changes the color slightly from red to more of the brown family.  Super markets love fresh cherry red product for the color, but sacrifice the tenderness by not aging product.  This is one main reason why steak at a restaurant is better than a steak at the supermarket. We wet age all of our steak for 30 days.
Then, for furthering the process, dry aging can be done.  This is where the product is placed in strictly monitored room solely for dry aging. The temperature is controlled and the wind velocity as well as the humidity level must remain consistent.
The beef is then left in that room to dry age (outside of its original packaging) for an additional 30 days which produces an amazingly tender, natural tasting product.
Can you tell us a little about the cows your beef is coming from? Are they raised specifically for Rastelli? Where are they raised?
Absolutely, Rastelli's pure bred Black Angus cattle are domestically raised free-range in the mid-west and we control every aspect of the chain; literally from Farm to Family.  We are one of the only vertically integrated companies who can truly claim this.
What about Prime Beef?  I see on your website, Rastelli offers Prime steaks too? Some say there is a huge difference between choice and prime. What's your thoughts on this?
It really depends on where the beef is coming from.  Yes, there can be a big difference.  Is the prime steak more on the high end or low end of prime in regards to marbling; same question with the choice?
Is it high choice or low choice?  Steaks can vary, so yes, there can be at times BIG difference, when other times they may not vary too much.  I actually had a Rastelli Direct Prime Steak last night and it was incredible!  Taste, flavor, tenderness where simply off the charts!  I was in heaven!
Earlier I mentioned the USDA grading scale.  Prime is the highest USDA grade there is.  This is the most marbled beef available according to the USDA grading.  Generally, there should be more flavor, taste and marbling than a choice grade product.
Prime is the hardest grade to come by for this reason, and this is why the price is higher as well.  I certainly won't turn down a prime steak, lol, but my usual go to is the upper ⅔ choice line.
It's an excellent product that is slightly more economical than prime, and always "eats" incredibly!  There may be a bigger difference between choice and prime, but the upper ⅔ choice line closes that gap.
I had the pleasure of trying some of the Wagyu-Kobe Beef steaks you sent me. They were very tender and very flavorful so I would appreciate your telling my readers a little bit about what Wagyu Kobe Beef is and why it is so special.
The breed and heritage; just like the Angus Cattle we spoke about.  It's a superior breed for producing awesome beef and steaks.  Extra care is given, feed protocols are slightly different.  The Rastelli Wagyu Kobe Beef line is known well known for quality, intense marbling and flavor all around.
I have read that Kobe beef can only come from the cattle raised in Hyogo Prefecture, Japan and are not available for export so I'm guessing your beef is not from Japan. Can you tell us a little more about your Wagyu Kobe Beef, where it comes from and why it is the next best choice for Japanese Kobe?
You're absolutely right.  Only product from Japan can be labeled as Kobe.  This is where you'll see other terms such as Kobe-style beef or Wagyu Beef used to describe the breed from other parts of the world.
Rastelli Wagyu Kobe Beef is our only beef line that is not domestically raised.  It is imported from Australia, which outside of Japan, is known for producing the best Kobe-Wagyu Beef in the world.
How is Kobe-Wagyu graded? Is it the same as Choice and Prime? And where does your Wagyu range?
No. Wagyu Kobe is graded in a slightly different way.  They use a 'marble score' grading system similar to our USDA scale, but instead of select, choice and prime, numbers are assigned from 3-12.  The higher the number is, the higher the grade of Kobe beef and the more intense the marbling (and price).
Our Wagyu-Kobe will grade around M.S. 6-7, which is not the highest end, but still an incredible steak that the average consumer will enjoy without it being too intense. We believe it is the most palatable product at the most accessible price.
For comparison, a USDA Prime Grade steak would be equivalent to a marble score 2-3 Kobe steak.
Do you cook Kobe-Wagyu any differently than you would other steaks?
I don't; as with any steak, especially Kobe-Wagyu, don't overcook it.  I generally cook every steak the same way:
Olive oil, salt pepper, and sear on both sides for a few minutes to lock in flavor and juice, and then finish in the oven.  This is the way most restaurants cook their steaks and the way I feel is the best method.
Andrew, thank you so much for your great responses and I look forward to more conversations about your incredibly large selection of gourmet products.

My pleasure, thank you!  Fun times...